ADA
AHead Simulations
Alpaca Audiology
Amplifon
Amplivox
AudBoss
AuDConnex
Audigy
Audiology Design
Audioscan
Blue Wing
Blueprint Solutions
CaptionCall
CareCredit
Cochlear Americas
Cognivue
Consult
Entheos Audiology Cooperative
EntreAudiology
Fuel Medical Group
Grason-Stadler
Hamilton CapTel
HearVu
HearWorks
InnoCaption
Interacoustics
Lantos
Levo Medical
MAICO Diagnostics
Medcurity
Miracell
NationsHearing
Natus Medical
Neuromod Devices
Nupur Technologies
Oaktree Products
Oregon Academy of Audiology
Oticon
Pacific University School of Audiology
Redux
Resound
SafKan Health
Scratch
Signia
SoundWrx Inc
Sycle
T-Mobile
The American Institute of Balance
TIMS Software
Warner Tech-Care Products
Weave
Wells Fargo
Westone Laboratories
Whisper
Widex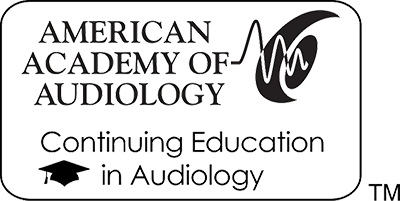 Academy of Doctors of Audiology is approved by the American Academy of Audiology to offer Academy CEUs for this activity. The program is worth a maximum of 1.05 CEUs/1.1ABA Tier 1CEUs. Academy approval of this continuing education activity is based on course content only and does not imply endorsement of course content, specific products, or clinical procedure, or adherence of the event to the Academy's Code of Ethics. Any views that are presented are those of the presenter/CE Provider and not necessarily of the American Academy of Audiology.
MONDAY, OCTOBER 25, 2021

08:00 AM - 09:00 AM

Cerumen Management Course — Part 1

Rita Chaiken, Au.D., Jiovanne Hughart, Au.D.

08:00 AM - 09:30 AM

Student Session — Hearing Health and Audiologists: An Essential Combination

Andrea Hannan Dawkes, Au.D.

09:10 AM - 11:10 AM

Cerumen Management Course — Part 2

Rita Chaiken, Au.D., Jiovanne Hughart, Au.D.

09:40 AM - 11:10 AM

Student Session — Impact of COVID-19 on Hearing Health

Archelle Georgiou, MD

11:40 AM - 01:10 PM

Cerumen Management Course — Part 3

Rita Chaiken, Au.D., Jiovanne Hughart, Au.D.

---

Student Session — Establishing Yourself as the Premier Professional in Your Community

Fred Boudreaux, Au.D.

01:20 PM - 02:50 PM

Are you "Frozen" in Time?

Nancy Gilliom, Ph.D., Chandra Manning

---

Cerumen Management Course — Part 4

Rita Chaiken, Au.D., Jiovanne Hughart, Au.D.

---

7 Ways to Grow your Practice

Amit Gosalia, Au.D.

03:00 PM - 03:45 PM

AA TRACK: Roundtable Discussion

03:00 PM - 03:45 PM

Tips and Tricks for Submitting Claims to Optimize Your Cash Flow

Deb Abel, Au.D.

---

Employee Retention: Creating a Culture of Engagement

Ernest Paolini, B.A.

---

The Keys to Successful Integration of Implantable Hearing Solutions in a Private Practice — Part 1

Catherine Richardson, M.A., Ginger Grant, Au.D., CCC-A

03:50 PM - 04:25 PM

Cash Flow Management

KC Grzelka

---

TikTok for Professionals

Crystal Bleu Dvorak, Au.D.

---

Becoming the Employee of Choice

Ernest Paolini, B.A.

---

The Keys to Successful Integration of Implantable Hearing Solutions in a Private Practice — Part 2

Catherine Richardson, M.A., Ginger Grant, Au.D., CCC-A

04:45 PM - 05:45 PM

Audiology Unleashed

Kevin Franck, Ph.D., MBA
MONDAY, OCTOBER 25, 2021 — AUDIOLOGY ASSISTANTS TRACK

08:00 AM - 09:00 AM

AA TRACK: Why Do Hearing Aids Cost So Much? Understanding Overhead

C. Scott Frink, Au.D.

09:10 AM - 10:10 AM

AA TRACK: The Audiology Assistant's Role in Marketing and Online Reputation Management

Kevin St. Clergy, M.S.

10:20 AM - 11:20 AM

AA TRACK: Your Actual Requirements under HIPAA - Simplfied

Amanda Hepper

11:50 PM - 12:50 PM

AA TRACK: Ethics Guidelines for Audiology Assistants

Michael Page, Au.D.

01:00 PM - 02:00 PM

AA TRACK: Sympathy, Compassion or Empathy?

Laurel Gregory, M.A.

02:00 PM - 03:00 PM

AA TRACK: Top 10 Relationship Killers for Audiology Assistants

Nichole Kingham, Au.D.

03:00 PM - 03:45 PM

AA TRACK: Roundtable Discussion
TUESDAY, OCTOBER 26, 2021

07:00 AM - 08:00 AM

Advocacy Breakfast Symposium

Tom Tedeschi, Au.D.

08:00 AM - 08:30 AM

Welcome & President's Address

Victor Bray, Ph.D.

08:30 AM - 09:30 AM

Keynote Address: Mindset Matters: Embracing Disability Pride & Intersectionality in Service Delivery

Claudia Gordon, Esq.

10:00 AM - 11:30 AM

The New Battleground to Growth and Impact (and it's not your clinic)

Erik Sorenson




Go Beyond: The New Frontier for Growth and Impact in Audiology

Archelle Georgiou, M.D.

12:45 PM - 02:00 PM

Panel Session: Addressing Challenges in Patient Access to Hearing Health Care

02:30 PM - 03:45 PM

Helping Your Patients Overcome Uncertainty Throughout Their Hearing Care Journey

Randy Baldwin , Dan Quall, M.S.

04:00 PM - 05:30 PM

Panel Session: Understanding the Relationship Between Cognitive Decline and Hearing Loss
WEDNESDAY, OCTOBER 27, 2021

08:45 AM - 10:15 AM

Differential Diagnosis for the Dispensing Doctor

Alexandra Tarvin, Au.D., Alicia D. D. Spoor, Au.D.

---

Achieving Growth by Taking Massive ACTion

Amit Gosalia, Au.D., Natalie Phillips, Au.D.

---

Tinnitus Healing From Home: Measuring the Efficacy of an 8-Week Online Mindfulness Based Tinnitus Stress Reduction Course During the 2020 Covid Pandemic

Jennifer Gans, Psy.D.

---

Rural Healthcare Matters - Helping More, Doing it Right

Liz Rogers, Au.D.

---

Audiological-Medical Management of Patients with a Chronic Health Issue: Sensorineural Hearing Loss?

Dan Quall, M.S.

10:30 AM - 12:00 PM

Documentation for Doctors: A Workshop on Documentation in an AuD Practice

Kim Cavitt, Au.D.

---

The Breaches are Coming What to Do Before and After a Breach

Josiah Dykstra, Ph.D.

---

What Do I Do With My Tinnitus Patient?

John Coverstone, Au.D., Emily McMahan, Au.D.

---

Creating an Effective Physician Evidence-Based Practice: Music Training for Better Hearing

Jill Davis, Au.D.

---

Defining a new category of hearing aids: learning hearing aids and the software-based approach

Jim Kothe, Mike Lowery, Ram Nileshwar, Au.D.

01:30 PM - 03:00 PM

Audiology Opportunities: A Workshop on Practicing to the Top of our License — Part 1

Kim Cavitt, Au.D.

---

The Management and Resolution of Ethics Issues

Michael Page, Au.D.

---

Understanding and Using Vestibular Evoked Myogenic Potentials (VEMP) in Audiology Practice

Richard Gans, Ph.D., Joseph Sakumura, Au.D.

---

How Hearing Aids Enhance Human Performance: The Health-related Outcomes Associated with Early Interventions of Hybrid Devices

Brian Taylor, Au.D.

03:10 PM - 04:40 PM

Audiology Opportunities: A Workshop on Practicing to the Top of our License — Part 2

Kim Cavitt, Au.D.

---

3rd Party Programs: When to Join Them and When to Beat Them!

Dan Quall, M.S.

---

Audiology and Autism: Providing Sensory Support

Vanessa Rentschler, Au.D.

---

Audibility is Important, but More is Needed

Ron Leavitt, Au.D., Carol Flexer, Ph.D., Colette Welch, Au.D., Nikki Clark