Student Chapter
Purpose
The purpose of the ADA Student Academy of Doctors of Audiology (SADA) is to serve the varied needs and concerns of student and emerging graduated members of ADA. SADA will collaborate with the ADA Board of Directors, ADA committees and others to develop educational resources and programming for students, participate in advocacy initiatives to advance student interests, and disseminate relevant information to students.
Structure
In accordance with the guidelines established for the Academy of Doctors of Audiology, SADA will be supported by the SADA Council. The Council will be comprised of a minimum of nine (9) ADA Student Members, who will serve for a one-year term, and who may be eligible for re-appointment. SADA Council Members are expected to attend monthly Council meetings via teleconference (every attempt will be made to schedule them at a time convenient to all) , to participate in Council projects by providing insight and expertise, and to support the mission and objectives of ADA and its student members. Note: We do recognize that university requirements and student obligations may prevent participation, particularly at certain times during the year.
President
Jasmin Rodriguez is a fourth-year AuD student at California State University Northridge (CSUN). She has been involved in local and national student organizations including the President of her local SAA chapter and Member at Large as Education Committee Chair for National SAA. These experiences inspired her to embrace another leadership role in SADA. Affirming her dedication to spreading awareness and advancement of those who have an interest in the career of Audiology. She is completing her externship at Audiology Concepts and the Tinnitus and Hyperacusis Clinic in Minnesota. Her ambitions are to open a private practice specializing in tinnitus and decreased sound tolerance with an emphasis on serving the Hispanic population. When she is away from the books, her hobbies include dancing, self-care activities, supporting her favorite football team the Minnesota Vikings, and trying new foods.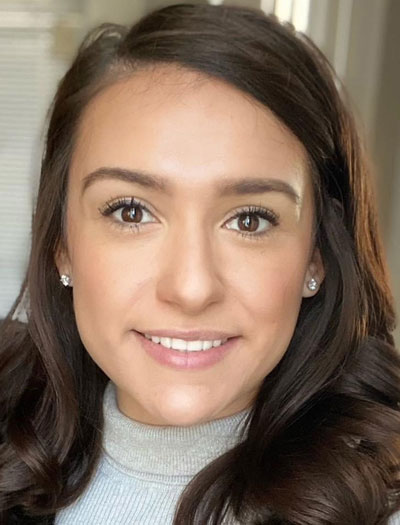 Vice President
Tamahra is a second-year Au.D. student at A.T. Still University in Mesa, Arizona with an undergraduate degree in Speech and Hearing Sciences from Arizona State University. One of Tamahra's goals is to own her own private practice and be able to advocate and serve the Latino community amongst other underserved communities. Tamahra's interests include geriatrics, pediatrics, cochlear implants, and intraoperative monitoring. In her spare time, Tamahra enjoys spending time with her family, hiking, weight training, and reading.
Advocacy Chair
My vision for the future of audiology is never hearing the word "what?" whenever I say I'm an audiologist. With the constant changes in the field of Audiology, we need to always move forward and diversify our services and expertise. I strongly believe that we need to start working on bringing more awareness of audiology and audiologists to the general public. Audiology is the science and study of hearing and balance. These two systems are extremely important for a good quality, so it baffles me that so many people are still unaware of its existence.
Communications Chair
I am a third-year AuD student at Salus University. I've worked as a medical assistant for an ENT practice in NY for six years. My bachelor's degree in Speech and Hearing Sciences was earned at Arizona State University. I enjoy spending time with my family and friends. My future plans in audiology include working in a private practice setting with a focus on geriatrics, vestibular disorders, and cochlear implants.
Education Chair
My name is Lilliana and I am a third year Doctor of Audiology student at Salus University. My interests include pediatric clinical care, vestibular and electrophysiological measures, and audiologic research. When I am not saving one ear at a time, my hobbies include traveling with my partner, playing video games, and caring for all 4 of my adopted kitties!
Fundraising Chair
Steven C. Huezo is from Norwalk, Ca., and a second-year audiology student in the San Diego State University and University of California, San Diego joint doctoral program. Steven is the current President of the Student Academy of Audiology of San Diego, a member of the National Student Academy of Audiology chapter relations committee, and a California Academy of Audiology student representative. He is the founder of Silver Linings Audiometry, a for-purpose organization that aims to provide free hearing screenings for children in private schools while allowing undergraduates to gain real-world experience using their school audiometry license. Steven is a member of the Auditory Physiology and Psychoacoustics Laboratory and has aspirations of pursuing a career in research.
Student AuDioGram Archive